American River Cruises 2019 View Basket
To order this holiday brochure for FREE delivery to your home or computer, click the GET THIS FREE button.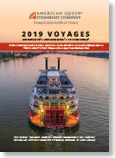 American Queen Steamboat Company
This brochure is no longer available on this website.
Discover the most all-inclusive river cruise experiences in North America
Upper & Lower Mississippi River Cruises | Ohio & Tennessee River Cruises | Columbia & Snake River Cruises
Experience America's history, geography, music, culture and cuisine on these uniquely traditional American River Cruises aboard three iconic paddlewheel riverboats.
Discover the most all-inclusive river cruise experience in North America with the American Queen Steamboat Company, enjoying gracious hospitality and service from a friendly all-American crew.
Your journey will be more than a river cruise to iconic cities and quaint small towns; it will be a voyage of mind, body and soul. Each day and evening lends the opportunity to delve into the dramatic history and musical influences of a region, exposing you to an onboard experience that penetrates the realm of extraordinary and transcends into something beyond measure.
The American Queen Steamboat Company's vessels are testimonies to the floating palaces of long ago and a culmination of their finest qualities. Grand in every sense of the word, you will discover a blend of every bold paddlewheeler innovation along with pristine, authentic design. Each vessel boasts an inclusive range of amenities and hospitable services to deliver a uniquely American experience for a truly rich river cruising holiday.
Award-winning shore excursions
Shore excursions, both included and premium, are thoughtfully designed to optimise the guest experience by providing plenty of activity and endless enjoyment. A dedicated fleet of deluxe motorcoaches and talented shore excursions staff await you at the vessel's dock in each port of call offering hassle-free access to some of the most historically and culturally significant attractions in America.
INCLUDED SHORE EXCURSIONS
Regardless of which vessel you choose for your river cruise holiday, each voyage includes signature Hop-On Hop-Off guided shore excursions – your ticket to experience the freedom of choosing your own path and get acquainted with the historically rich ports that you will encounter, with selected admissions and narrated tours.
PREMIUM SHORE EXCURSIONS
Award-winning Premium Shore Excursions offer you an opportunity to delve deeper into your specific interests and provide comprehensive, in-depth and rare experiences at an amazing value.
INDEPENDENT EXPLORATION
Complimentary bicycles and helmets are also available at each port on your river cruise. With so many picturesque towns along the rivers, cycle at your own pace on an independent exploration of the riverfront, shops and sites. Staff will provide you with local attraction maps and guides to help with your planning and navigation of each port.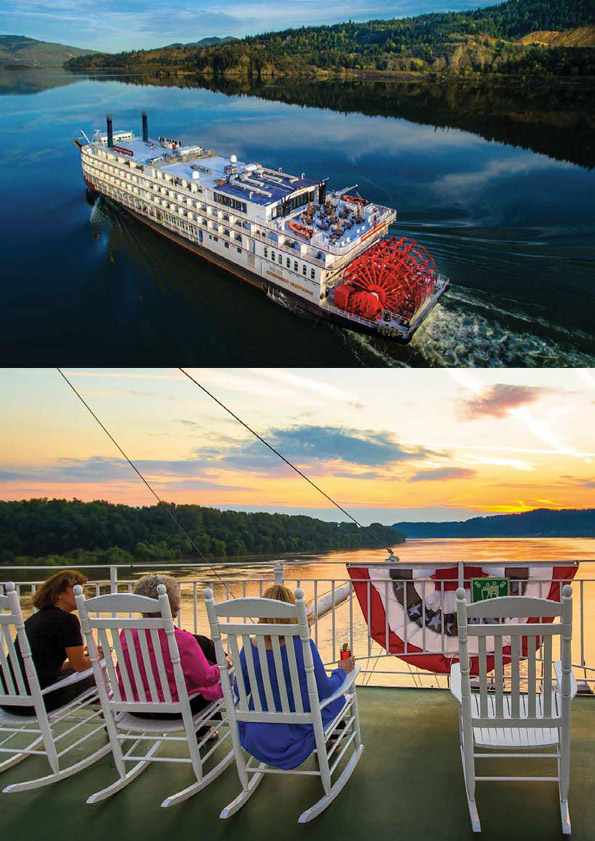 Themed Voyages
Many itineraries are uniquely themed and feature special entertainment to create a river cruise unlike any other. Join a music-themed cruise such as a 50s and 60s trip down memory lane or take a festival cruise for Thanksgiving, the Christmas Markets or New Year's Celebrations.
Whether you are engaged in a themed voyage special event, a captivating tale told by the Riverlorian or an energised musical performance led by our top entertainers, each vessel hosts a wealth of impressive entertainment that is sure to satisfy.
The American Queen
The largest steamboat ever built, the grand American Queen is a gracious and elegant triumph of American ingenuity. Relax in a warm, inviting atmosphere of charm without sacrificing modern amenities. The rooms display all the opulence of the American Victorian era. Glistening woodwork, fresh flowers and antiques adorn her interior spaces. Outside, lacy filigree evokes memories of the many stately riverboats that preceded her and so inspired her designers.
The American Empress
The largest overnight riverboat west of the Mississippi River, the American Empress follows the trail of Lewis & Clark on the Columbia & Snake Rivers and delivers classic elegance and modern luxury on a grand scale. One step onboard and you will quickly discover that there is far more to this vessel than her welcoming appearance and signature red paddlewheel.

Boasting a vast collection of some of the finest historical artifacts and artwork of the Native Alaska, Russian, Gold Rush and sternwheeler eras, the corridors of the American Empress hold nearly as much beauty and intrigue as the dramatic scenery unfolding on the river outside. You needn't be an art enthusiast to appreciate the captivating display of Pacific Northwest heritage that this unique collection represents.
The American Duchess
The American Duchess is a floating, intimate masterpiece that can carry up to 166 guests through America's heartland, cruising the Mississippi, Illinois, Ohio, Tennessee and Cumberland Rivers. The paddlewheeler, created from a 1995 hull, was completely reconstructed to become one of the most luxurious river cruising vessels in the country, featuring single-seating main dining and entertainment venues, soaring ceilings, and all of the features guests have come to expect on other American Queen Steamboat Company cruises.
Your voyage includes:
Hotel stay before your voyage – includes breakfast, taxes, porterage and transfers to the vessel
All onboard meals with regionally-inspired epicurean cuisine in multiple dining venues

Signature Hop-On Hop-Off Shore Excursions included in each port of call

Wine and beer with dinner

Coffee, tea, cappuccino, espresso, bottled water and soft drinks throughout your voyage
Daily lectures by the Riverlorian, the resident history and culture expert

Acclaimed entertainment worthy of Broadway
Warm hospitality and 24-hour room service
A dedicated fleet of deluxe motorcoaches

Upper Mississippi River Cruises
Explore the world of Mark Twain on the legendary Mississippi River.
Lower Mississippi River Cruises
Journey through the Antebellum South. Itineraries include the historic cities of New Orleans and Memphis.
Ohio & Tennessee River Cruises
Experience early American history and picturesque river towns, as well as some of our most popular theme cruises.
Columbia and Snake River Cruises
Follow in the footsteps of Lewis & Clark through the pristine beauty and intriguing history of the Pacific Northwest.
This brochure covers the regions and holiday types listed below. Click on the links to see more free travel brochures covering the regions and holiday types you are interested in.