To order this holiday brochure for FREE delivery to your home or computer, click the GET THIS FREE button.
Melbourne, The Great Ocean Road, Puffing Billy, Wineries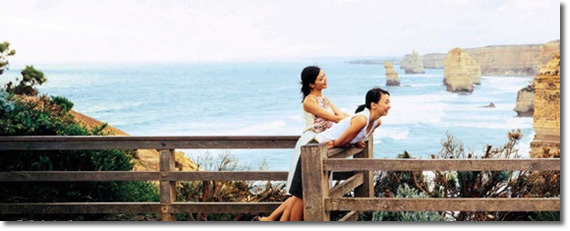 AAT Kings can show you the very best of Melbourne and its surrounds. This brochure offers a variety of half-day and full-day holiday tours including the Great Ocean Road, Puffing Billy, Wineries, Sovereign Hill, Grampians, City Sights and much more. AAT Kings has been operating tours throughout the Melbourne region for over 30 years. Discover the best things to see and do in this vibrant city and its beautiful surrounding areas with Australia's No.1 Day Tour Operator.
AAT Kings people
When you're away from home, you need someone with all the answers; someone who'll look after all your needs. AAT Kings' fantastic team of Driver Guides, local guides and operations experts work together to make your trip run smoothly from start to end. Come and meet the team — they'll put a smile on your face!
AAT Kings history
The AAT Kings story began in 1912 when the Pyke family pioneered coach touring in Australia. Starting with self-drive car-hire in 7 seater vehicles in Sydney, it expanded to guided tours. By the 1960s, still known as AAT, it had become Australia's largest tour operator. In the 1980s it teamed up with pioneering adventurer Bill King's outback tours, to create the AAT Kings you know today.
AAT Kings' luxury fleet
With another 8 luxurious coaches joining the eet from 2015, AAT Knigs' vehicles are the newest in Australia. Fully air-conditioned, AAT Kings' coaches are equipped with reclining seats with seat belts and footrests, panoramic windows, an on-board restroom and two-door access. They also feature state-of-the-art technology including DVD player, GPS and PA systems. All of the AAT Kings coaches are equipped with phone chargers and WiFi*.
The leader
In 2015 more people chose to travel with AAT Kings than any other guided holiday company in Australia. With more than 100 years' experience, AAT Kings is recognised and awarded by the travel industry and is committed to maintaining a high standard and creating a memorable experience for its guests.
*Please note: WiFi speed and connectivity can be intermittent outside major cities and towns
This brochure covers the regions and holiday types listed below. Click on the links to see more free travel brochures covering the regions and holiday types you are interested in.