Japan Ski |
Free Travel Brochures
View Basket

The following free holiday travel brochures feature Japan Ski holidays, tours and packages – click the GET THIS FREE button to order your Japan Ski holiday brochures.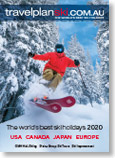 Discover the world's best ski holidays to the USA, Canada, Japan and Europe. Travelplan is Australia's leading operator of quality snow holidays to the world's great resorts, and one of the world's most successful and respected operators for over 42 years. Don't leave your dream holiday to chance - make the right choices from the best advice. Savings are available on all components of your holiday including: airfares, accommodation, lifts, lessons, ski and board hire, transfers and resort services. Earlybird Deals!
> MORE...
---
---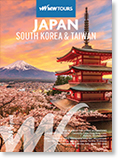 From the cherry blossoms of Kyoto to the dynamic Seoul, MW Tours strives to provide the best quality services to ensure you experience a fantastic and unforgettable trip. As destination experts specialising in small group tours, tailor made itineraries, packages and flexible departure dates, MW Tours delivers excellent value for money. Travelling in a small group means you enjoy a more attentive and personalised service with every detail of your trip taken care of. Flexible independent touring options are available for families and your own small group.
> MORE...
---
---