To order this holiday brochure for FREE delivery to your home or computer, click the GET THIS FREE button.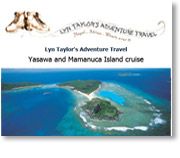 This brochure is no longer available on this website.
Yasawa and Mamanuca Island cruise
DEPARTING: 14TH SEPTEMBER 2018
Can't get enough of Fiji's beautiful beaches, reefs, islands and culture? Join Lyn Taylor's Adventure Travel for the ultimate discovery of the Mamanuca and Yasawa Islands.
Combining the 3 and 4-day tours of the Manamuca and Yasawa Islands, this 7-night cruise will give you access to the most breathtaking scenery and cultural experiences that the region has to offer.
From Monuriki Island, where the Tom Hanks movie Castaway was filmed, to an exclusive trip to The Narokorokoyawa or Sacred Islands where you will experience a Sevusevu (gift giving) ceremony, there is something for everyone on this cruise.
Relax in style aboard MV Reef Endeavour where your fully catered buffets and 3-course meals will be served against a backdrop of spectacular scenery. Chill by the pool or on the sundeck or indulge in a massage in the spa. Get active and explore by kayak or glass bottomed boat . Go snorkelling or diving in the pristine waters. The choice is yours.
As an added inclusion, you'll be offered the choice of a complimentary tour to the Sabeto Mud Baths or Orchid Garden of the Sleeping Giant.
Finally, before heading back to Denarau, travel to the northern coast of the main island, Viti Levu, for some excellent snorkelling, a great hike to admire the amazing Bligh Water and a traditional Island Night, featuring kava, meke and a lovo feast.
Adventures to suit your style & budget
Lyn Taylor's 20 years of extensive travel in these areas makes her the perfect specialist to design your dream adventure holiday in some of the world's most remote, exotic and extraordinary places. Lyn and her team know the trails, climbs, walks, history, cultures and people that ensure the ultimate experience.
If you are looking for an active, out of the ordinary vacation, Lyn Taylor's Adventure Travel designs and leads adventures all over the world. A range of holidays are available to suit your budget in Nepal, Tibet, Bhutan, India, Vietnam, Peru & Spain. Upcoming destinations include Patagonia, Slovenia, Argentina and Japan.
Lyn Taylor's Adventure Travel specialises in Group Adventure holidays, Women's Travel Tours & Family holidays that are tailored towards people looking for something different.
As well as mixed group holidays, Lyn Taylor's Adventure Travel also specialises in Women's Travel Group Tours where Lyn herself personally organises and leads the trip.
Lyn Taylor's Adventure Travel designs tailor-made itineraries to suit your budget and is dedicated to giving customers personalised service and value for money.
This brochure covers the regions and holiday types listed below. Click on the links to see more free travel brochures covering the regions and holiday types you are interested in.