USA & Canada with Alaska, Hawaii & Central America View Basket
To order this holiday brochure for FREE delivery to your home or computer, click the GET THIS FREE button.
What makes Trafalgar the best
USA, Canada, Hawaii, Mexico, Costa Rica and Cuba
EarlyBird Deals: Save 10% when you book your holiday to the Americas by 18 December 2019.
Travel throughout North and Central America countries, including USA, Canada, Hawaii, Mexico, Costa Rica and Panama, with over 40 unique itineraries in a choice of 6 trip styles, each one crafted to ensure you make the most of your own dream destination. Travelling with Trafalgar is hassle-free - all the details are taken care of - so you're free to have a real holiday. And Trafalgar's Insider Experiences means you're taken deeper into local cultures and traditions. Plus it's easy to save with Trafalgar's Early Payment Discounts.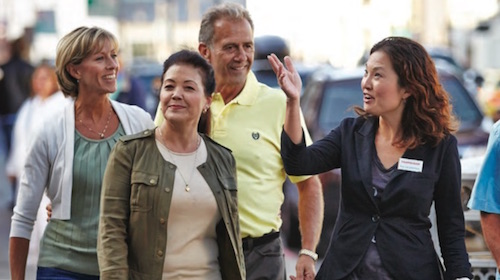 Trafalgar's local knowledge
Trafalgar has established an incomparable network of local contacts, real characters who share the rich culture of each destination with you. From chefs and artisans to historians and farmers, you'll eat with them, drink with them, listen to their stories. Introduced through Trafalgar's famous Insider Experiences, they'll deepen your understanding of the destination in ways you'd never otherwise experience.
Trafalgar's expertise
With Trafalgar, every day is easy. Trafalgar includes must-see sights on every trip, and you'll always enjoy an element of free time and flexibility. There's even a range of Optional Experiences to choose from, so you can customise your trip. And because Trafalgar holidays are always hassle-free, you'll enjoy exclusive access to selected sights, avoid queues at major attractions and stay in hotels hand-picked for quality and location. You'll also benefit from luggage porterage right to your room and included internal flights in South America, Hawaii and selected destinations in Central America.
Trafalgar's range of trips
Trafalgar offers a wider variety of destinations and more types of holidays than any other guided travel operator, which means more choice for you. So whether you want to explore a particular region in depth, have fun with the family or experience the sights at a more relaxed pace, there's a trip that's perfect for you.
What's always included
Must-see sightseeing – with audio headsets where appropriate
Hand-picked Insider Experiences and surprise extras
VIP entry to selected sights in many destinations
An expert Travel Director
All accommodation
Breakfast every day
On average 50% of your evening meals
A luxury air-conditioned coach or alternative transport (such as rail journeys or cruises)
All hotel tips, charges and local taxes
All porterage and restaurant gratuities

This brochure covers the regions and holiday types listed below. Click on the links to see more free travel brochures covering the regions and holiday types you are interested in.