Family Experiences – Britain, Ireland, Europe, USA, Costa Rica View Basket
To order this holiday brochure for FREE delivery to your home or computer, click the GET THIS FREE button.
Simply the best … holidays, moments, memories
Destinations include England, Scotland, Wales | Ireland | Italy, Spain, France, Switzerland, Greece | USA | Costa Rica.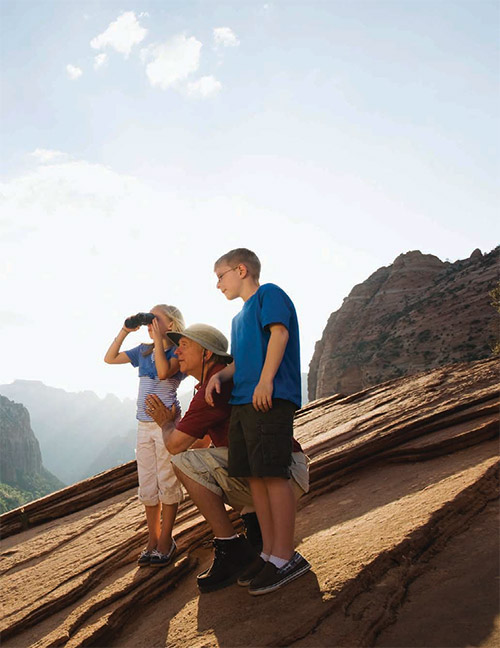 Trafalgar's great family holidays are designed to appeal to every generation from children to grandparents.
As the innovators of guided holidays, Trafalgar infuses every trip with the best moments. Enjoy hand-crafted itineraries filled with unique experiences, leaving you stress-free to enjoy simply the best holiday. And that means you're guaranteed the best memories.
Crafted family highlights
You will not only experience the unique Trafalgar magic that we share on all of our trips across the globe, but will also enjoy the extra special family highlights that are crafted into your holiday. Designed with the whole family in mind, you'll share special moments of fun and inspiration.
Free to be in the moment and feel pure joy
With everything taken care of, your family is free to just be. To revel in those special moments, whether it is the wonder of seeing an icon for the first time, having the time to truly connect with one another, or experiencing the richness of local cultures.
Awesome Accommodation
Trafalgar takes pride in selecting the best accommodation for your family, every night of your trip. From hotels with great locations and family-friendly activities, to incredible Stays With Stories experiences, you can rest assured of it being the right choice for you and your family. And to make things even better, when you get to your accommodation we unload your bags and take them straight to your room - no hassle, no worries.
Magnificent Meals
Your family will start every morning with an included breakfast, so you always begin the day right. Trafalgar knows that food and travel go hand-in-hand, so you will enjoy lots of tasty local meals through the exclusive Be My Guest and Connect With Locals experiences. Everyone gets to taste the unique flavours of each destination.
Superb Sightseeing
You'll get access to all the iconic sites, but Trafalgar also takes you beneath the surface, far beyond the guidebooks. You'll love special experiences and little included extras, plus loads of VIP access like skipping the lines at the places you just can't miss - only made possible by those in the know.
Terrific Transport
Trafalgar will get you there in style and comfort, with plenty of leg room, WiFi and air-conditioning. No stress about unfamiliar traffic or road rules, no more arguing over the navigation. Put away the map, take in every second as you bask in the views from your panoramic windows, and just recline and relax and let Trafalgar take you from place to place without a worry in the world.

EUROPE, BRITAIN & IRELAND
Castles and Kilts

Shamrocks and Leprechauns

Gladiators, Gondolas and Gold

European Wonderland

Greek Island Hopper
USA
Wild West, Cowboys and Buffalos

Pioneer Adventures of the Old West

Pilgrims and Patriots
COSTA RICA
Monkeys, Jungles and Volcanoes
This brochure covers the regions and holiday types listed below. Click on the links to see more free travel brochures covering the regions and holiday types you are interested in.