To order this holiday brochure for FREE delivery to your home or computer, click the GET THIS FREE button.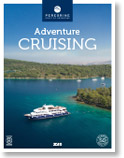 This brochure is no longer available on this website.
A different way to travel

Croatia | Greece | Iceland | Spain | Portugal & Morocco | Cuba | Seychelles | Costa Rica & Panama | Canary Islands | Cape Verde | Senegal & Gambia
Looking for a different way to travel? Introducing Peregrine's newest way to discover the secrets of a destination – on a premium small ship adventure cruise.
Whether you've travelled with Peregrine on a small group tour or on a larger cruise ship, this is an exciting, immersive and alternative way to see some of the world's most beautiful beaches, coasts and islands. Peregrine's itineraries allow guests to enjoy ample leisure time in each port, and you are encouraged to get off and explore – all with the ease of only having to unpack once. Your knowledgeable Cruise Director is always available to provide their insights on the best places to eat, drink, walk and swim, giving you unparalleled access into islands, bays or areas often restricted to larger groups for an exceptional local experience.
An Informal Side To Cruising
From the warm waters of the Mediterranean to the tropics of the Indian Ocean, Peregrine's cruises are all about the destination. Peregrine's small ships will get you there with ease. Peregrine's boats have a maximum of 25 suites, accommodating between 31 and 50 passengers – and it only takes a few days for guests and crew to get to know each other and be on a first name basis in a professional, yet family-like atmosphere. This means you'll receive more personalised service than on a larger cruise, create lasting friendships with your fellow travellers, and have a more intimate cruising experience.
Discover Things The Big Ships Can't
Peregrine's ships can reach ports the larger ships can't. While big ships need to anchor in deep water and commute to shore by tender, Peregrine is able to dock in small ports, allowing you to walk on and off your boat at your convenience – no security checks, no waiting around in long queues to access tenders and no fixed times to stick to. Just the freedom and ease to explore a destination however you choose and enjoy a more considered pace in each port of call.
It's All About The Destination
Much of Peregrine's cruising is done in the morning, so you can enjoy the scenery as you cruise by during the day, and the nightlife and local flavours when you're docked at port. From the bustling cosmopolitan port of Mykonos and picture-perfect beaches of the Seychelles, to thundering waterfalls in Iceland and palm-fringed Cuban shorelines, to secluded coves, tiny villages and ancient archaeological sites, Peregrine's journeys provide ample time each day to explore and truly immerse yourself in each location.
Cruises
Croatia Coastal Cruising - Dubrovnik to Sibenik
Greek Island Cruising (Jewels of the Cyclades)
Cuban Panorama Cruising (Havana to Cienfuegos)
Cruising Iceland (The Icelandic - Reykjavik to Akureyri)
Cruising Spain and Portugal - Lisbon to Malaga
Croatia Coastal Cruising - Sibenik to Dubrovnik
Cruising Costa Rica and Panama - Costa Rica to Panama
Cruising in the Seychelles (Garden of Eden)
Cruising Costa Rica and Panama - Costa Rica to Panama
Greek Island Cruising (Antiquity to Byzantium)
Cruising Iceland (The Icelandic - Akureyri to Reykjavik)
Cruising Costa Rica and Panama - Panama to Costa Rica
Adriatic Coastal Cruising (Adriatic Odyssey)
Greece Cruising (Classical Greece)
Cuban Panorama Cruising (Cienfuegos to Havana)
Cruising Spain and Portugal - Malaga to Lisbon
This brochure covers the regions and holiday types listed below. Click on the links to see more free travel brochures covering the regions and holiday types you are interested in.