India, Sri Lanka, Nepal, Tibet, Bhutan, Maldives View Basket
To order this holiday brochure for FREE delivery to your home or computer, click the GET THIS FREE button.
Flexible Group Tours & Tailor-Made Holidays
India | Himalayas | Nepal | Bhutan | Tibet | Sri Lanka | The Maldives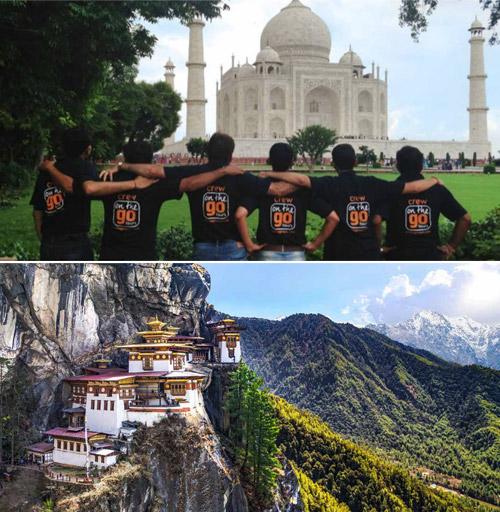 On the Go makes it all come true effortlessly - from the Taj Mahal to tigers, culinary delights to cultural intrigue, soulful retreats to active adventure... it's all here.
These award-winning holidays are all about discovery and new experiences. Travelling with On The Go means you get to visit the best places, whilst enjoying plenty of independence and freedom. Part of the fun is sharing your travel experiences with an international mix of travellers.
Escorted by an expert tour guide, On The Go's group tours include carefully planned itineraries with all the key highlights, great hotels, expert guiding and plenty of fun and relaxation – all at the best value for money that each destination offers.
Experience the colour and magic of a holiday to India, the Himalayas, Nepal, Bhutan, Sri Lanka and the Maldives. Offering a select collection of escorted group tours and tailor-made holidays, On The Go has something to suit all styles of travel in this wonderful part of the world.
On The Go believes the best way to experience a country is through the eyes of the local people and as such, all these tours are led by local tour leaders. On The Go's dedicated team based in India has helped create well planned tours based on years of experience and a wealth of knowledge.
Carefully planned itineraries
Carefully planned itineraries take in the key highlights and offer you a fun and relaxed experience. Agra's stunning Taj Mahal is a 'must-see' and On the Go takes you there on all group tours. Another attraction is the Pink City of Jaipur, also visited on all tours.
Typically between 8 and 20 passengers, every tour is escorted by a tour leader, subject to a minimum of 6 people in the group (if less than 6, local tour leaders are used at each stop).
Extend your holiday with one or more of our exciting group tour bolt-ons. Take a balloon flight over Jaipur, head up to the cool climes of colonial Shimla or even learn a few Bollywood dance moves! Discover amazing Amritsar or go in search of the big cat at Panna National Park!
Accommodation is at 3 to 4-star hotels and heritage-listed properties with an emphasis on well-managed centrally located hotels. This brochure carries more information.
You can create your own personalised holiday in India. Choose the standard and style of accommodation you desire, your preferred mode of transport and the particular sights you want to see. To get you started, take a look at our most favourite itineraries.
India Group Tours – We offer a wide selection of tours that visit the very best places India has to offer. From the famous Golden Triangle in the north to the scenic Kerala backwaters in the south. Experience the colours of Holi and the lights of Diwali on our festival tours, and spot the elusive Bengal tiger on our wildlife tours
Sri Lanka Group Tours - With over 2,000 years of history, Sri Lanka has a rich cultural heritage and a wealth of sacred sites, ancient cities and lush tea plantations. Sri Lanka also boasts eight UNESCO World Heritage sites, several of which are located in what is known as the cultural triangle. Not to be missed are the Sigiriya rock fortress, cave temples of Dambulla and the sacred cities of Polonnaruwa, Kandy and Anuradhapura.
Nepal and Tibet Group Tours - Follow in the footsteps of Hillary and hike to Everest base camp or trek through rhododendron forests in the popular Annapurna region. Or make your own pilgrimage to 'The Roof of the World' to see the Tibetans worship at the Jokhang Temple.
Choose your style of travel
Signature small-group tours
Local interaction and authenticity is placed at the centre of your travel experience whilst upping the comfort stakes with 3-5 Star hotels. Explore all the main sites with expert English-speaking guides and stay in comfortable hotels. These small group tours are limited to 24, with an average of 18.
Budget
Perfect for independent spirits travelling on a shoestring. Many tours include a local payment to help keep costs down so you get the best possible value. With a maximum size of 32, these tours are designed to create a social and fun travel experience.
Handpicked
Offering you the most iconic experiences in destinations where you'll join travellers from a carefully selected portfolio of local partners, these tours represent exceptional value. Typical group size is 28 and accommodation is of 3-4 Star standard, but varies by destination.
Active – trek, cycle, walk
Explore more than the standard highlights on an exciting trekking, walking and cycling holiday. Your accommodation will reflect the off-the-beaten-track nature of these trips, with simple hotels and guesthouses plus some camping. You'll need a good level of fitness and an intrepid spirit.
Independent
Set the pace on your own bespoke private itinerary with your preferred standard of accommodation and style of tour. From pre-priced packages available off the shelf to fully curated tailor-made holidays, this range also includes our selection of stopovers and short city breaks and provides maximum flexibility. On The Go's specialist team is happy to tailor the perfect holiday for you. Choose the standard and style of accommodation you desire, your preferred mode of travel and the particular sights you want to see and On The Go will construct a holiday that's just right for you.
Solo travel
On The Go's trips are an ideal way for solo travellers to experience the world with the comport and security of knowing you'll be travelling with others and have a knowledgeable guide on hand to help.
On a selection of the most popular Signature tours, solo travellers can choose to have their own rooms, supplement free. Most of the Signature, Budget and Active group tours also have a "no compulsory single supplement" policy, which means that if you're happy to share a room, On The Go will try and match you up with a solo traveller of the same sex so you don't have to pay for a single room.
This brochure covers the regions and holiday types listed below. Click on the links to see more free travel brochures covering the regions and holiday types you are interested in.