Vista Cruises – Your World from a New Perspective View Basket
To order this holiday brochure for FREE delivery to your home or computer, click the GET THIS FREE button.
Your World from a New Perspective – Inaugural Season 2023
Europe, North America, Caribbean, Panama Canal & Mexico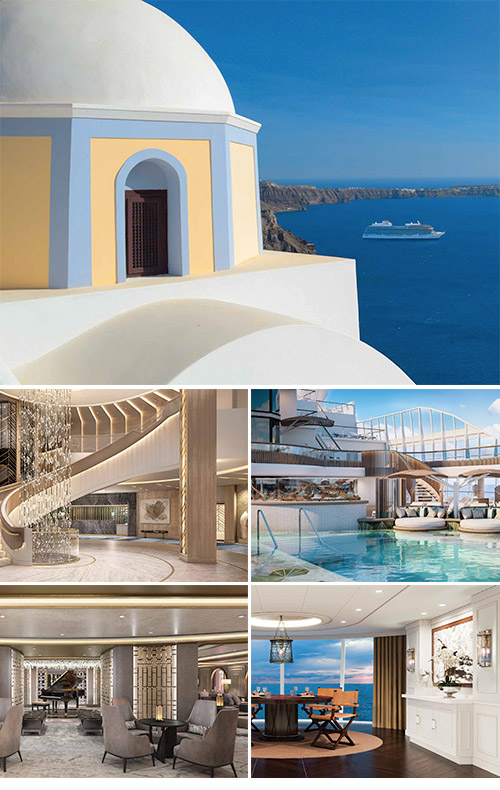 Be among the first to experience your world from a new perspective aboard Oceania Cruises' newest masterpiece, the beautiful and luxurious Vista.
Step aboard Vista and you'll discover a dramatic new way of seeing the world. Vista invites you to savour the journey on a ship whose captivating beauty and stylish design evoke the wonders you'll discover ashore.
Sail to fascinating destinations in faraway lands while enjoying The Finest Cuisine at Sea and personalised service that distinguish every ship in Oceania Cruises' fleet.
Vista brings a fresh perspective to the small, luxurious ships of Oceania Cruises with a distinctive blend of grand spaces that inspire celebration and tranquil oases that invite repose.
Embrace the intrigue and wonder of the world from a ship whose dramatic spaces and luxuriously layered design mirror the nuanced cultures, the awe-inspiring encounters and the fulfillment you'll uncover ashore.
During her 2023 Inaugural Season, sail to boutique destinations across Europe that unlock enchanting experiences celebrating the continent's dazzling mosaic of cultures, cuisines and history. Experience the icons, storied treasures and celebrated traditions of Europe in a new light. Whether you're drawn to the French Riviera and Tuscany or the Greek Isles and Adriatic Sea, Vista will become your ultimate small-ship retreat as you discover the magic in what lies beyond the horizon.
From tropical coves to French-Canadian metropolises, each destination will be made all the more blissful from the comfort of your spacious seagoing residence. Appreciate the quaint seaside retreats and cosmopolitan pleasures of Canada and New England in a new light from aboard the sophisticated comforts of Vista or glide into the tropics on an escape that encourages new levels of bliss and immersive enrichment.
The Oceania Cruises Experience
Casually elegant ambience filled with museum-quality art, thoughtful design choices and stunning shared spaces
Exquisite dining experiences at unique open-seating restaurants serving gourmet dishes created à la minute
A courteous and relaxing pace aboard our small and luxurious ships – no need to rush, or worry about waiting in long lines
High staff-to-guest ratio ensures unparallelled service
Impeccable attention to the finest of details, right down to pillow choice
Diverse itineraries featuring over 450 alluring destinations worldwide
The OLife™ Difference
The Finest Cuisine at Sea®
A variety of distinctive open-seating restaurants, all at no additional charge
Gourmet cuisine curated by world-renowned Master Chef Jacques Pépin
Award-winning itineraries featuring more than 450 alluring destinations
Spectacular port-intensive voyages featuring overnight visits and extended evening port stays
Small, luxurious ships catering to no more than 1,250 guests
Exceptional personalised service
Elegant casual ambience, no jacket or tie required
Aquamar Spa + Vitality Center
Epicurean enrichment programmes, including immersive Culinary Discovery Tours™ in the world's most fascinating destinations
This brochure covers the regions and holiday types listed below. Click on the links to see more free travel brochures covering the regions and holiday types you are interested in.