Worldwide Adventures for 18 to 29s View Basket
To order this holiday brochure for FREE delivery to your home or computer, click the GET THIS FREE button.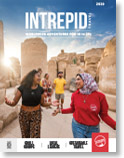 This brochure is no longer available on this website.
Now, More Than Ever, The World Needs More Intrepid People
Asia | South & Central America | USA | Canada | Africa | Middle East – Small Group adventures | Local Leader knowledge | Responsible travel experts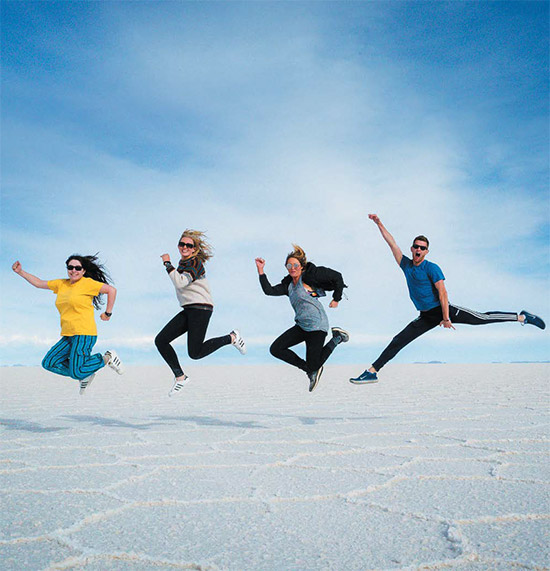 Intrepid Travel's new adventures are for young travellers aged 18 to 29 who want to explore the world and have a great time with like-minded people their own age. If you want to dive head-first into new places and embrace new cultures, while making special connections with your own small crew along the way, these trips are for you.
Why Choose an 18 to 29s adventure
Just for you
Want free time to explore on your own, but also a friend to show you a few secrets along the way? Intrepid teams you up with a crew your own age to share awesome experiences with, and a like-minded leader to take you to all the best spots (and make sure you don't get lost).
Great value
A great time doesn't need to cost a fortune. Intrepid's Basix travel style keeps trips affordable by using public transport, simple, well-located accommodation and gives you the freedom to choose which optional activities you want to splash out on.
Freedom & flexibility
Each itinerary takes you to the highlights of a place, but is also flexible and loaded with free time and optional activities. This means you can customise your trip and make it your own. It's your adventure, after all.
Travel made easy
Intrepid does all the hard work and handle the logistics – like organising itineraries, transport and accommodation – so you can focus on the fun stuff like trying new food and finding local bars. Why waste hours agonising over every detail of your trip when you can leave it to the experts?
Travel solo, together
Got an urge to see the world, but no one to do it with? You're never alone when travelling solo with Intrepid. We provide a ready-made travel crew and an expert local leader to help you make the most of your adventure. Plus, you can choose to bunk with a new friend or pick your own room for a small extra cost.
Local leaders
Born and bred in the regions you visit, Intrepid's leaders are passionate locals who do so much more than just show you the sights. They know the history of a place , as well as its shortcuts, and are full of insider info. They can lead you to cool backstreet bars and suggest the best way to make the most of free time. On top of that, they bridge language barriers, can point you in the direction of a working ATM and just generally make your journey as seamless as possible. With Intrepid's local leaders, you don't just see a destination, you experience it.
Basix trip style
You want big-time experiences without a big-time price tag? That's why Intrepid's Basix style is used on each of these 18 to 29s trips. Basix trips use simple, convenient accommodation, travel on local transport where possible and include plenty of free time. Pick and choose inclusions to fit your budget. These are amazing experiences at a great price.
Benefits of small groups
Real life experiences
Travel is all about moments that make you feel alive, when you know you're experiencing something special. It could be the first glimpse of something you've only ever seen on a postcard. But more often, it's when you find yourself away from the tourist crowd, in moments you can only experience in a small group, like a thrilling village football game or sharing a laugh with a local family in their home.
Travel like a local
Intrepid travels the world to keep things local. That's why you will have experienced local leaders, eat at family restaurants and stay at small, locally run accommodation (with an occasional homestay or songthaew ride thrown in for extra fun). This way, you're not only getting an authentic experience, you're also contributing to the local economy.
Not too big, not too small
Intrepid's groups are small enough to let you feel like you're exploring a destination independently, but big enough to create a good social vibe. Numbers vary depending on where and how you're travelling, but the average group size is ten people. It's the perfect number to squeeze into places that big groups can't, like a 400-year-old pizzeria to learn how to spin pizza, or a cosy Mekong Delta homestay.
Just the right balance
Travelling in a small group means leaders can strike the perfect balance between planned activities and 'you time'. There's always an itinerary, but there are also plenty of opportunities to be spontaneous and make the journey a little more about you. With the flexibility a small group allows, you can spend more time connecting with local people over local things.
Asia

Asia

Vietnam

Cambodia

Laos

Thailand

Singapore

Borneo

Bali

Myanmar

China

Japan

Nepal

India

Sri Lanka

Africa & Middle East

South Africa
Zimbabwe
Botswana
Kenya
Tanzania
Morocco
Jordan
Egypt
Israel
Palestinian Territories

Europe

North America

South & Central America

Peru
Bolivia
Colombia
Ecuador
Argentina
Brazil
Galapagos
Mexico
Guatamala
Costa Rica
Belize
Cuba

Sailing Adventures
This brochure covers the regions and holiday types listed below. Click on the links to see more free travel brochures covering the regions and holiday types you are interested in.