China, Tibet, Hong Kong & Macao Group & Independent Journeys View Basket
To order this holiday brochure for FREE delivery to your home or computer, click the GET THIS FREE button.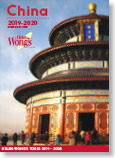 This brochure is no longer available on this website.
A Better Way to Experience China – Group & Independent Journeys
Exciting guided itineraries, Yangtze River cruising, independent guided tours and exceptional value to China, Tibet, Hong Kong & Macao
Helen Wong's Tours, the Asian specialist, is proud to offer a fascinating variety of journeys in their new program, designed to impress you from the moment you book until you finish your holiday.
These exciting itineraries offer exceptional value for money for a minimum of 2 persons or more travelling together.
In addition to the popular nine Journeys from 13-25 days, Helen Wong's Tours has included as many as 26 Stay-A-While Journeys of 4 to 9 days duration, designed as an extension to any holiday destinations for independent travellers and families. The program is filled with exciting itineraries and city and regional information.
Helen Wong's Tours, a pioneering travel company, continues to offer an inviting list of 'Helen's Choice' inclusions – specially hand-picked spectacular world-class entertainment and a range of highlights – all included in the price, adding value of up to A$280 per person.
When cruising along the Yangtze River, the China specialist offers exclusive value-added inclusions such as free house wine and soft drinks, choice of dining venues and welcome fruit basket.
Other exciting highlights of the Helen Wong's Tours' program include QR codes which, once scanned by a Smart Phone, capture the destinations on a video.
Leading Specialist
Helen Wong's Tours is a respected market leader and a pioneer in Australia of tours to China for over 30 years, with a dedicated office in China and professional teams around Indochina. This comprehensive presence in these regions provides you with 24 hours access and on the ground support. An elite team of experts, who possess an intimate understanding of the region, oversee all aspects of your holiday arrangements.
Expert Team
A team of responsible and knowledgeable tour guides provides personal insight and history of their own city. They share their experiences and understanding of the local cultures and customs with a sense of pride. This service offers you a 'hassle-free' experience to enjoy the wonderful region you are visiting. Our team of experts is there for you at every step – from your first call until your flight home.
Genuine Value for Money
Helen Wong's Tours offers a wide choice of holiday programs that not only include the major historical highlights but allow time to show you something of the daily life of the people, incorporating a specialised range of activities for fun and enjoyment. Programs are designed as an almost all-inclusive package, with sightseeing plus 'Helen's Choice' value-added experiences, entrance fees, most meals and the signature local performances, all included in your holiday price – a 'hassle-free' experience with genuine value for money!
Daily activities and hotels are clearly stated in each itinerary and offered at no hidden extra costs. Check out 'Helen's Choice' inclusions of value-added experiences that add unique highlights in your journey, making these trips unequalled.
Quality Accommodation
Hotels are hand-picked and carefully chosen for quality, ideal location and provide you with good quality breakfasts to start your day. Most importantly, you will have total peace of mind and security as you will know exactly what standard of hotel and where you will be staying when you book and pay for your holiday.
Remarkable Yangtze River Cruising
For centuries, the Yangtze River has been portrayed as an integral part of Chinese culture in traditional poetry and painting. Enjoy remarkable days on the mighty river and take in the sights ashore, meet new friends and step into scenery and history that will take you breath away. Your Victoria Cruise offers an outstanding and professional river cruising experience.
Flexibility
This is a corner of Asia which is very special – as fascinating as it is culturally diverse, historically significant and breathtakingly beautiful. Itineraries offer an enticing range of tours and sightseeing activities that have been hand-picked and well organised, with an intriguing mix of travel alternatives to suit the ever-expanding demands of today's travellers.
Stay-A-While Journeys – an extension for any holiday perfect for family and independent travellers
These Journeys continue to be an integral part of the Helen Wong's Tours China program, created to offer maximum flexibility, travel on any date, the choice of a wide variety of itinerary options – with private car and English-speaking guide.
This brochure covers the regions and holiday types listed below. Click on the links to see more free travel brochures covering the regions and holiday types you are interested in.