Peugeot Leasing in Europe View Basket
To order this holiday brochure for FREE delivery to your home or computer, click the GET THIS FREE button.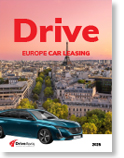 This brochure is no longer available on this website.
What is Peugeot Leasing?
You could be cruising the open roads and discovering the best of Europe behind the wheel of a BRAND NEW Peugeot. The best part is, the price is TAX FREE!
The Peugeot Europe program is specifically designed for non-European residents wishing to holiday in the UK and Europe between 21 and 175 days. It allows you to save with tax free prices plus other great benefits.
Benefits of a Peugeot Lease in Europe
You receive a guaranteed brand new vehicle.
Peugeot Leasing prices are all inclusive. You receive unlimited kilometres, full comprehensive vehicle insurance (includes third party liability, theft and fire), personal accident insurance (PAI), additional drivers (conditions apply) and 24 hour assistance in 41 countries.
Nil excess on the above insurances
FREE pick up and return at 15 locations in France (at various airports, ferry ports and city offices) including Geneva. Vehicles may also be picked up and returned at 12 other European cities for an additional fee**.
The minimum driver age is 18 years. Peugeot does not charge a 'Young Driver Surcharge'.
No maximum driver age limit.
Travel is permitted into most Eastern European countries
Most vehicles are diesel models, so you save on fuel costs and get improved fuel economy.
There is no fuel surcharge and you do not have to return your car with a full tank of fuel.
All the paperwork is completed before you depart Australia, so there is no waiting in queues at airport rental desks.
All Peugeot Leasing vehicles come with a full factory warranty and are delivered with approximately 10-15 litres of fuel – enough to get well on your way.
This brochure covers the regions and holiday types listed below. Click on the links to see more free travel brochures covering the regions and holiday types you are interested in.