Explorations - Small Group Touring Worldwide View Basket
To order this holiday brochure for FREE delivery to your home or computer, click the GET THIS FREE button.
Embrace the journey
IRELAND | EUROPE | AFRICA | DUBAI | INDIA | SOUTH EAST ASIA | AMERICAS | AUSTRALIA & NEW ZEALAND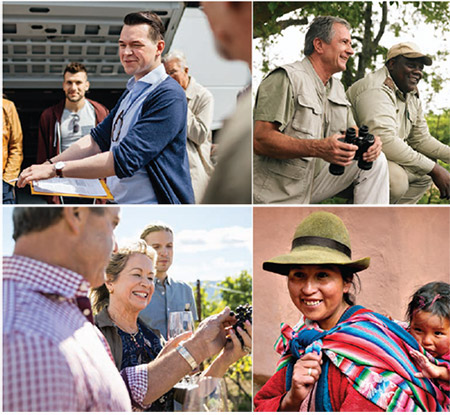 Collette Explorations is for those travellers looking to:
Travel in smaller groups (average of 18 guests)
Go off the beaten path on culturally immersive adventures
Stay in boutique accommodation
Meet the locals and embrace their traditions
Savour authentic culinary experiences
Participate in hands-on discoveries
Embark on a small group journey and discover the world in a more intimate way with more personal experiences that bring you deep into the culture. From vibrant cities to remote villages, you'll become part of these worlds. Today's cultural explorers like you will enjoy the more active, authentic experiences taking you on the road less known to meet the people that call it home. You'll indulge in spectacular regional cuisine immersing you in the avour of the region. Learn how to farm in Peru, hunt and taste truf es in Italy, cook Vietnamese cuisine – moments of connecting with the culture while dazzling your senses. Delight in your boutique accommodation that captures the spirit of each destination. All the while, meet friends you never knew you had and become a local as you explore on your own.
Collette gives you more
This is what sets Collette apart. Travelling with Collette comes with benefits that take the guided travel experience to another level. Collette's inclusive tours offer you more value for your money while also ensuring that each element adheres to Collette's exacting standards. With a focus on service and quality, Collette gives you more of what makes travel special.
A true travel experience starts and ends with people
There's a freedom in guided travel that you won't experience on your own. Knowing that everything will run smoothly, knowing that the hotel will be just right, knowing that all the must-see highlights are included… this is what travelling with Collette is all about.
Your Collette Tour Manager is with you throughout your travel experience.
This is the only way to travel. From finding the perfect hotel to blending cultural experiences and free time with incredible must-see inclusions, Collette does it for you, seamlessly handling it all — you simply revel in the adventure.
No matter how you want to see the world, Collette can take you there. Whether you want to travel across an entire country, dive into a local culture or come to know one of the world's great cities, Collette has the travel experience that's right for you. See the world the way you want to see it. With over 90 tours across the world, the possibilities are endless.
Explorations Small Group Tours
With just 12 to 24 passengers, these personal adventures focus on culinary experiences, cultural immersions and unique accommodations that capture the destination. Enjoy a new perspective on the world.
Grand Gardens
Enjoy the finest in horticulturally themed travel with esteemed partner, the Royal Horticultural Society. Combine the thrill of guided travel with experiences at the world's great gardens.
Single-Hotel Stays
Explore and relax in the world's most remarkable destinations during a single-hotel stay. Immerse yourself in the fanfare of a grand city or unwind in the timeless countryside.
With Collette, the World is Within Your Reach
Collette is a third generation, family-owned company with offices in the United States, Canada, Australia and the United Kingdom. Since 1918, Collette has been sharing a love of travel. Today the worldwide travel collection features comprehensive land tours, river cruises, rail journeys, small group tours, garden holidays and more.
Collette Private Chauffeur Drive Service
Begin and end your tour in style and comfort. Private chauffeur drive service is included on all Collette tours for customers within 40km of an Australian international airport. A uniformed driver in an executive car will collect you from your home and take you to the international departure terminal. And on your arrival back to Australia, your driver will be waiting for you at the arrivals terminal to take you home. A truly luxurious way to begin and end your Collette experience!
Inside this brochure

Europe

Ireland

Italy

Iceland

France

Spain

Switzerland

Finland

Asia

Dubai

India

Nepal
Thailand

Vietnam

Laos

Cambodia

Africa & The Middle East

Morocco

Kenya

South Africa

Botswana

Tanzania

Dubai

South America

Costa Rica

Colombia

Peru

Galapagos
This brochure covers the regions and holiday types listed below. Click on the links to see more free travel brochures covering the regions and holiday types you are interested in.