Latin America Journeys & Small Ship Cruises View Basket
To order this holiday brochure for FREE delivery to your home or computer, click the GET THIS FREE button.
Personalised Journeys and Small Ship Cruises with the Latin America and Polar Specialists
Peru, Ecuador, Galapagos, Colombia , Brazil, Uruguay, Bolivia, Argentina, Chile, Mexico, Guatemala, Belize, Honduras, Nicaragua, Costa Rica, Panama, Cuba, Antarctica & The Arctic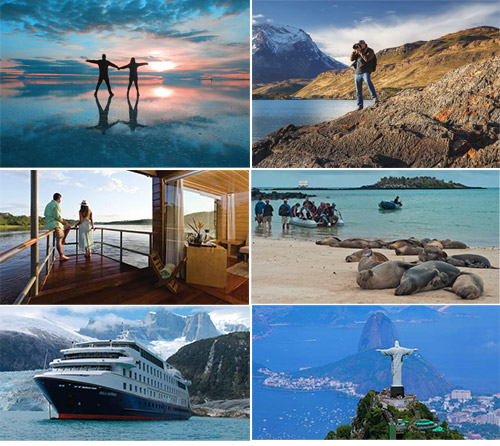 For the free-spirited, independent adventure seekers who want to pack up their bags, head for Latin America and not miss a thing, you've come to the right place. Chimu Adventures' range of independent modules are specifically designed for those who want to travel and explore on their own, but don't want to miss out on highlights such as the famous El Circuito trek or the Train in the clouds experience because the more rigid, organised tours have filled all the available spaces!
Chimu Adventures' selection is as flexible and adventurous as you. Customise your own tour throughout South America; options are plentiful and bursting with diversity, inclusive of horse-riding adventures, rafting trips, kayaking through the fjords, language courses or touring the Chilean Lakes. Chimu Adventures' friendly team has extensive, first-hand knowledge of the region and will inspire you with exhilarating suggestions.
Tours cover a lively cross-section of Chile and Argentina and range from a 4-day trek to an 11-day highlights expedition; some of the most popular include the W trek in Chilean Patagonia and the Buenos Aires Stopover. These can be blended together and extra nights thrown in: it's your tour, after all!
All Chimu Adventures' treks use modern, quality equipment and all meals and transport are provided on tour. Generally, group sizes have eight people to a guide, with a maximum group size of 20.
If you're travelling alone, you may prefer everything to be arranged for you beforehand. You may also be interested in joining a like-minded group with which to share your travels. Chimu Adventures' group tours pack in plenty of extraordinary highlights, even within a limited time frame. Using a mix of public and private transport, these tours, with well-trained, local English-speaking guides, allow plenty of free time to soak up the sights.
Chimu Adventures' vision to support local communities on the continent is highly evident and you are encouraged to immerse yourself in the best that Latin America has to offer. From the breathtaking silent stretch of a glacier, to the hustle and bustle of Buenos Aires, from the privilege of sharing intimate customs to the thrill of skiing on world-class slopes - it can all be arranged with enthusiasm and flexibility in comfortable and varied accommodation styles.
PRIVATE JOURNEYS
Private Journeys are the 100% private experience, designed just for you and your travelling companion. You travel by yourselves and enjoy a range of benefits including your own personal guide, private transportation as well as access some unique, crème de la crème, VIP experiences such as private chef experiences, private tours, and degustations, to name only a few.
TAILOR-MADE JOURNEYS
Tailor-made Journeys are perfect for those who would like to combine the best of independent and group travel. You will enjoy the flexibility a private journey brings whilst sharing activities and excursions with other travellers from around the world, making it not only an extremely rewarding but also a very affordable way of travel.
ESCORTED SMALL GROUP TOURS
Travelling in a group of a maximum of 20 travellers, our Small Group Journeys are fully escorted and bring you the perfect balance between organised sightseeing and free time for independent discovery. Introducing you to those corners of Latin America that would be hard to visit independently, they couldn't be any further from the widespread image of big buses and mass tourism.

Contents
Multi-Country Tours
Peru
The Amazon
Bolivia
Argentina
Brazil
Chile
Galapagos & Ecuador
Colombia
Venezuela
Central America
Mexico
Guatamala
Costa Rica
Belize
Nicaragua
Panama
Cuba
Antarctica
The Arctic
This brochure covers the regions and holiday types listed below. Click on the links to see more free travel brochures covering the regions and holiday types you are interested in.