Kyrgyzstan, Uzbekistan and the Silk Road View Basket
To order this holiday brochure for FREE delivery to your home or computer, click the GET THIS FREE button.
Explore Uzbekistan, Kyrgyzstan and the fabled cities of the Silk Road
Kyrgyzstan & Uzbekistan: 18 Days from Bishkek 27 Sep 2020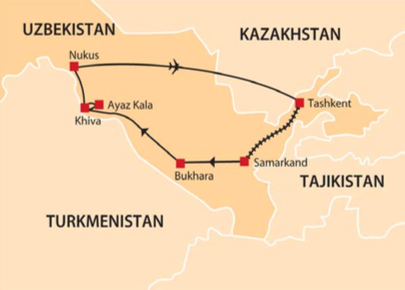 Lying at the heart of Central Asia, Kyrgyzstan and Uzbekistan share much in common however they offer very different holiday experiences. Kyrgyzstan, with its dramatic mountain scenery and large population of nomadic shepherds contrasts with the spectacular Silk Road cities of Samarkand, Bukhara and Khiva whose ancient turquoise mosques etch the desert skyline.
Lying on the crossroads of the ancient 'Silk Road', Uzbekistan remains a mystery to the most people. For centuries the great cities of Samarkand, Bukhara and Khiva were important centres of trade, wealth, culture and learning and today they are among the most exotic cities of the Islamic world. Ancient mosques covered in shimmering tilework, crowned by stunning turquoise domes etch the skyline. Together with Tashkent, these three cities form the core of this journey through this ancient and extraordinary land.
In Tashkent, ride the metro, visit the State Museum of Applied Arts and explore the fabulous Chorsu food bazaar.
Next is legendary Samarkand, whose colourful history dates back over 2,500 years. Discover its most celebrated sights including the madrassas and mosques of the magnificent Registan.
A short drive away is World Heritage‐listed Shahrisabz. Explore the ruins of the conqueror Timur's palace and visit nearby Urgut and Konigil, known for their ceramics and ancient paper-making workshops.
Alongside Samarkand, Bukhara is one of the great Silk Route cities of central Asia and two days allows ample time to see the principal sights and make your own discoveries.
Next, travel across the desert steppe to Khiva, once a slave‐trading Khanate, and the most intact and homogenous of these three ancient cities. Within its baked mud brick walls, visit a wonderful carpet and textile workshop and see some stunning vernacular architecture, exploring a number of mosques, madrasas and mausoleums.
Northeast of Khiva, spend a night in a traditional yurt camp, which gives a glimpse into central Asian nomadic life.
Drive up to the remote town of Nukus, which boasts the world's second largest collection of Russian avant garde art.
Fly back to Tashkentin the evening where your tour ends the following day.
Your host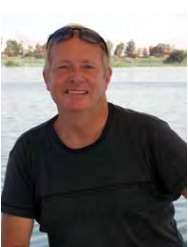 Steve Mortimer heads up Byroads Travel and will be your host on this tour. Steve has more than 30 years in the travel industry and has travelled to well over 120 countries. He has worked with a number of well‐known Australian and UK adventure travel companies including 13 years as a Product Manager and Operations Director for Peregrine Adventures. In addition to researching and developing holidays in many different regions of the world Steve has led a great number of trips to some of the world's most interesting, exotic and out of the way places.
Steve likes nothing better than getting out and about with like-minded travellers, sharing his knowledge and introducing them to some of the world's most interesting places.
With Byroads, you can be confident that your itinerary includes visits to all the 'must see' attractions – and much more, however there are some days when you'll have time to wander and to make some of your own discoveries. Throughout the tour local guides are employed to provide a wealth of background information and share their extensive local knowledge.
This brochure covers the regions and holiday types listed below. Click on the links to see more free travel brochures covering the regions and holiday types you are interested in.