To order this holiday brochure for FREE delivery to your home or computer, click the GET THIS FREE button.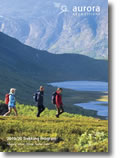 This brochure is no longer available on this website.

Patagonia • Iceland • Norway • Sweden • Nepal
Patagonia offers a wild and expansive landscape that is a treat for the senses and trekking is an ideal way to take it all in. Trek to glaciers, encounter guanacos and condors, photograph shimmering granite spires, piercing azure skies and feel the immensity of nature.
Formed about 25 million years ago, Iceland is one of the youngest landmasses on the planet and consequently home to some of the world's most active volcanoes. With almost 80 per cent of the country uninhabited, much of Iceland's terrain consists of plateaux, mountain peaks and fertile lowlands. The landscape is characterised by waterfalls, geysers, volcanoes, black sand beaches, and other-worldly steaming lava fields.
With fascinating Viking history, staggering natural beauty and world-class cuisine, Norway will leave an indelible impression on your mind and soul. Whether you choose the mountains inland or prefer to hug the fjord-filled coastline, Norway promises to reward you with some of the most spectacular natural scenery to be found anywhere in the world.
Sweden is a nature-loving country and rewards outdoor adventurers with astounding natural scenery. It's a hub for hikers and we feature just a taste of hiking opportunities in Sweden, visiting the more rugged wilderness in the north.
Nepal is synonymous with trekking. With numerous trails to choose from, the Himalayan mountains of Nepal present great challenges for both novice trekkers and the world's most experienced climbers challenges that Greg Mortimer, co-founder of Aurora Expeditions was able to successfully overcome.
Browse through this brochure and discover Aurora's range of exciting trekking itineraries and for more information visit auroraexpeditions.com.au/trekking
Aurora's Trekking Legacy
Trekking and mountaineering are part of Aurora Expeditions' DNA. Co-founder Greg Mortimer has a long history in mountaineering. Some of his many climbing achievements include being one of the first two Australians to climb Mount Everest without the aid of oxygen, one of the first two Australians to climb K2, and part of the first Australian expedition to climb the south face of Annapurna II. He and Mike McDowell were the first Australians to climb Vinson Massif, Antarctica's highest peak, and with Mortimer leading the first expedition to climb Mount Minto in the Admiralty Mountains of Antarctica. Aurora Expeditions honours Greg Mortimer's adventurous pioneering spirit by naming its first purpose-built expedition vessel after him and continuing his mountaineering legacy by reintroducing our Nepal trekking program, with his blessing.

This brochure covers the regions and holiday types listed below. Click on the links to see more free travel brochures covering the regions and holiday types you are interested in.