To order this holiday brochure for FREE delivery to your home or computer, click the GET THIS FREE button.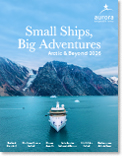 This brochure is no longer available on this website.
East & South Greenland | East Coast Canada | Svalbard | Jan Mayen | Norway | Franz Josef Land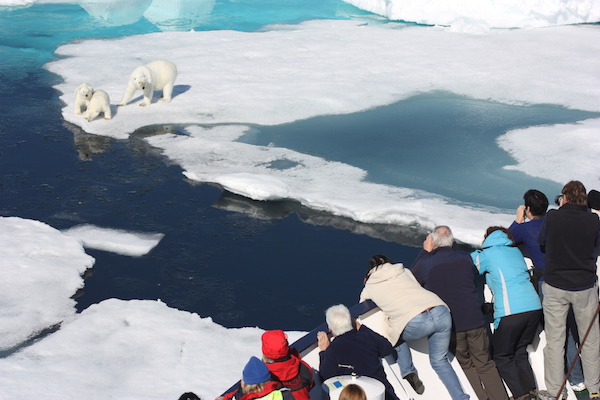 Delight in the abundance of the northern summer, from the wild coasts of Scotland to Norway's fjords, the fossil-rich deserts of Spitsbergen to glacier-carved Greenland and fiery Iceland.
A short season of long days, the Arctic summer offers sunsets that linger until dawn, snowmelt feeding waterfalls and glaciers that drop massive icebergs into the sea. Guillemots, kittiwakes and cheeky puffins turn cliffs into raucous high-rise rookeries, whales breach and blow, musk oxen dot the tundra and polar bears hunt across the pack ice. Whether calving from Svalbard's vast glacier fronts or squeezing into Greenland's deep fjords, mesmerising icebergs of every shape and aqua hue can be seen. From Scottish seaports to Norwegian and Icelandic fishing towns, the adventure base of Longyearbyen to Inuit villages of East Greenland, we enjoy a wide range of history and local culture.
With four fantastic itineraries, from late June to early September, Aurora Expeditions' expedition ship Polar Pioneer is your floating basecamp for extraordinary adventures. On all voyages, Aurora Expeditions offers sea kayaking as an optional adventure activity.
On 2015 Spitsbergen Odyssey voyages, Aurora Expeditions is delighted to join forces with BirdLife Australia, welcoming on board a BirdLife Australia specialist to lecture and interpret the birdlife. As well, all expeditioners on these voyages receive a complimentary 12-month membership to BirdLife Australia.
Whether you're keen to paddle, trek, photograph or simply sit back and enjoy extraordinary wildlife and landscapes, Aurora Expeditions aims to make each day one you'll never forget.
Why travel with Aurora Expeditions?
Small groups are best
At sea, Aurora Expeditions' high-latitude, expedition ship is small enough to go where others can't, often resulting in more landings. On land, Aurora's group size is limited to 16. Fewer people means a more personalised experience and a lasting camaraderie.
Consistently Aurora Expeditions.
Rather than book you onto another company's trip, Aurora Expeditions operate only its own expeditions, either on vessels that it charters, or working closely with local experts who share its ethos and style.
Aurora Expeditions' staff put you first
Your security, wellbeing and understanding of the places you visit are Aurora Expeditions' staff's priorities. Aurora's staff have a passion for sharing their knowledge and making everyone feel as if they are on the same team.
Enrichment through understanding
The more Aurora Expeditions' remote area specialists share their knowledge about the history and natural environments you encounter, the more rewarding the experience.
Environmental sensitivity
Aurora Expeditions' helped develop international environmental guidelines for the polar regions you visit, and consciously limits the number of people it takes to its destinations.
Flexibility and freedom
Aurora Expeditions stops for breaching whales! Enjoy your destinations in your own way, within the bounds of safety. Hike up a snow slope, take your time photographing wildlife, inspect historical huts or simply sit and admire the view.
Aurora Expeditions' spirit of adventure!
Photograph wind-plumes on Mt Everest, share the trail with gauchos, yak-herders or rarely-visited rainforest hunters. Scuba dive or snorkel with leopard seals, sea kayak with whales or enjoy a feast of tundra berries. Ponder ancient rock paintings or lift your spirits in a Buddhist monastery. No matter where in the world, Aurora Expeditions encourages a true sense of exploration.
Aurora Expeditions has fun
Aurora Expeditions loves what it does and believes that everyone involved, from expeditioners to staff, ship's crews to trekking teams, shares the same goal – the best expedition imaginable!
Many inclusions
Whether it's a stylish jacket and photo journal memento to keep, or gumboots to wear on our polar voyages; flights for our fly/sail Antarctic program; linking flights in Iceland, Alaska, Ecuador, Nepal and Africa or Everest heliflights, our inclusions are what most others would consider extras.
Environmental Stewardship
From Aurora's very first Antarctic voyage in 1992, it has been committed to environmentally responsible tourism practices. Founding Australian members of the International Association of Antarctic Tour Operators (IAATO) and the Association of Arctic Expedition Cruise Operators (AECO), Aurora supports research, donates funds, and allocates resources to ensure it leaves places it visits as it found them – or better. As you travel with Aurora,it hopes you develop a deeper understanding of the natural forces shaping our world. By creating lifelong environmental ambassadors, Aurora aims to preserve the wild places for future generations.
If you're a solo traveller, welcome on board!
Aurora Expeditions welcomes many solo travellers on its trips, and their numbers are increasing each year. Maybe it's simply the nature of the expeditions, but Aurora understands what a big step it is for many to set off on their own. To address this, Aurora has developed its informal 'cabin-mate finding service' that matches solo travellers with a cabin mate of the same gender. And it has had great success so far! Aurora Expeditions' small groups and relaxed atmosphere make it easy to make new friends (and remember everyone's name!), and the inspiring destinations are a great conversation starter. Plus, by sharing a cabin you'll also avoid paying any extra 'single supplements'. You might arrive alone, but Aurora can guarantee that you'll go home with lifelong friends.
Inside this brochure
Wild Scotland

Across The Arctic Circle

Spitsbergen Odyssey

Jewels of the Arctic
This brochure covers the regions and holiday types listed below. Click on the links to see more free travel brochures covering the regions and holiday types you are interested in.