Turkey, Greece, the Balkans, Egypt, Jordan, Morocco, Israel View Basket
To order this holiday brochure for FREE delivery to your home or computer, click the GET THIS FREE button.
Affordable, quality small-group travel experiences
Turkey | Greece | The Balkans | Egypt | Jordan | Morocco | Israel | Uzbekistan | Georgia | Armenia | Azerbaijan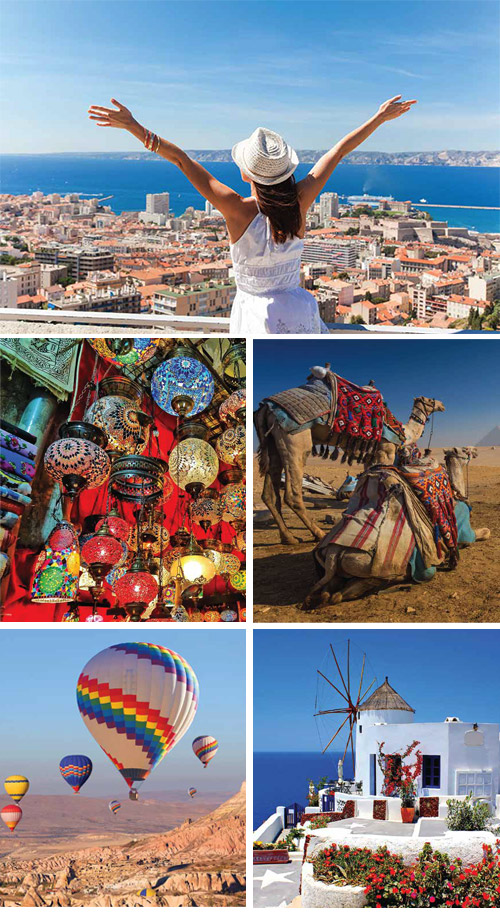 With Adventure Destinations you will see all of the "must-see" sights and expert local guides will also show you plenty of hidden treasures. Holidays are precious, and so Adventure Destinations has designed each tour carefully to give you unforgettable memories and great value with the perfect mix of sightseeing and free time.
Adventure Destinations aims to show you the heart of the countries you travel, and for you to walk away feeling as though you have had an experience, rather than simply ticked off a list of places to see.
Whether you are a history buff, prefer to get off the beaten track, or simply want to relax and enjoy the sun and sea, whether you prefer a small group tour or a more independent style of travel, Adventure Destinations has something to offer everyone.
Crystal clear blue waters, rich history, postcard views, stunning architecture, incredible ruins, amazing food, warm and friendly people – these are just some of the things that an Adventure Destinations trip offers you. The hardest part will be choosing which tour to go on.
Experience that counts
Adventure Destinations has been around since 1997 and believes it's the small things that make a tour great. When you book with Adventure Destinations, you have the peace of mind of knowing that every detail has been taken care of. The Adventure Destinations team knows every town, all the best places to stay, the best places to eat, and the best places to go in your free time.
Quality and value for money
At every step of the way, Adventure Destinations offers you great value for money. All the ingredients that make up a great tour have been meticulously planned so that you have the best possible experience. All year round, Adventure Destinations checks the quality of suppliers and constantly refines itineraries and suppliers based on guest feedback.
Small groups, big experiences
You can't really get to know a country if you are travelling in a really large group, so groups (with the exception of ANZAC Day tours) have a maximum of 20 people. This gives you more flexibility when travelling, and more chances to learn more about local culture and traditions.
Guaranteed departures
Tours are guaranteed to depart, regardless of how many people are booked, giving you peace of mind and security.
The Adventure Destinations team
Expert tour guides, drivers and operation staff are the key to a good team. Adventure Destinations staff all love to travel, and have broad experience across all aspects of the travel industry. With a large team on the ground to support all operations, the success of Adventure Destinations is a direct result of the loyalty and dedication the team has demonstrated over the years.
Knowledgeable tour guides
Your tour guide is the difference between a good and a great trip, and so Adventure Destinations guides are carefully selected for their passion and knowledge. All of guides have studied subjects such as archaeology, history and mythology at university and are passionate about showing their country to visitors.
Dedicated vehicles
Unlike many tour operators, the bulk of tours are operated using Adventure Destinations's own fleet of vehicles. This puts your safety first. Adventure Destinations directly manages the maintenance of vehicles and the training of drivers. The fleet is modern and if your group is up to 12 people, your vehicle is most likely to be a comfortable mini-bus such as a Mercedes Sprinter. Larger groups travel in a full size coach with plenty of room for you to spread out and enjoy your trip.
Handpicked hotels
Hotels have been carefully handpicked and reviewed all year round to ensure they continue to provide guests with a comfortable stay. While most hotels are moderate 4-star hotels, or an equivalent standard, they are chosen to strike the perfect balance between location, comfort and character. In tours, more emphasis is put on character, traditional style hotels, and family-run businesses.
Inside this brochure
Turkey
Anzac & Gallipoli Tours
Special Interest Tours
Gallipoli Battlefield Tour
Ararat & Noah's Ark
Mt Nemrut Eastern Explorer
Black Sea & Eastern Splendors
Jewels of Euphrates
Blue Cruise
Greece
Balkans
Morocco
Egypt Jordan and Israel
Caucasus
This brochure covers the regions and holiday types listed below. Click on the links to see more free travel brochures covering the regions and holiday types you are interested in.